Our Proven Model for Manpower Solutions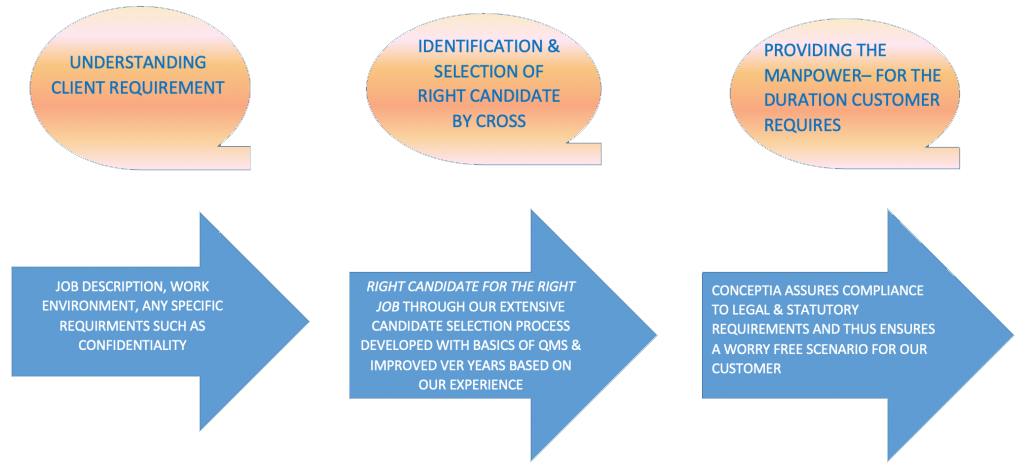 Qualified Manpower for your specialized needs!
Recruitment Services:
Conceptia's experienced cross functional team including technical & HR experts ensures selection of the right candidate for each profile that you need.
Deputation:
To execute any project, one of the major requirements is the availability of qualified manpower. In today's competitive environment permanent employees may not be a feasible solution due to the fluctuating requirement and the difficulty to retaining talent.
Conceptia utilizes its experience as engineering service provider in finding and training the right candidates for each customer requirements to be a pioneer in recruiting the right candidates for the customers.  We also ensure compliance to all applicable legal and statutory aspects.
We Offer
Engineering Project Manager with domain knowledge.
Tool Designers.
Jigs/ Fixture Designers.
Highly Skilled CMM Operators.
Highly-skilled CNC Machine Operators.
M. Tech/ B. Tech Engineers. (Various Cadres).
Design Engineers/ Draughtsman.
QA/ QC and NDT Inspectors.
Maintenance Engineers.
Skilled/ semi-skilled and technical person.
Why Us
15 years of customer satisfaction.
Adherence to statutory and Labor rules.
Proven experience and expertise in providing quality manpower.
Talented and dedicated recruitment team including highly skilled HR team and domain experts.
Deep market knowledge, large database and network Experience in serving Indian (Including Government & defense) and International customers.
Industry focused.
Reliability.
Quality services at right cost.